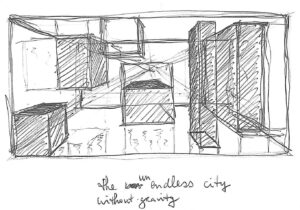 "DE ONEINDIGE STAD ZONDER ZWAARTEKRACHT"
Een blik werpen in de toekomst waarbij we geen last meer hebben van de zwaartekracht! In deze stad komen de gebouwen van alle kanten op ons af. Een oude mijn is nog een van de restanten uit een ver verleden, gekoesterd vanwege zijn markante afwijkende architectuur. De bussen die hier rijden worden door sterke magneten aan een stalen kabel die onder het wegdek is weggewerkt vastgeklonken zodat ze niet gaan zweven. Het maakt niet uit wat boven, onder, links of rechts is. We kunnen niet meer naar beneden vallen. De inrichting van onze huizen veranderd. We kunnen tegen alle muren, vloeren en plafonds meubels zetten. Wel even verankeren!
"THE INFINITE CITY WITHOUT GRAVITY"
Look at a city in the future without the inconvenience of gravity In this city buildings come towards us from every direction. An old mine is one of the remains from a far away past, cherished because of its striking and odd architecture. The busses driving here are connected to the road by very strong magnets to cables of steel which are laying underneath the surface of the road, so the busses won't be floating into the air. It doesn't matter what is up, down, left or right. We can't fall down. The interiors of are houses will be changing a lot. We can put furniture to all our floors, walls and ceilings. The only thing is that they must be fixed or screwed!